Moving to a crossroads called Bright in 1989, I was delighted when Van Morrison released a song about our neighbourhood. The only problem with the song was that he seemed to have little idea where places were and the directions in which he should travel.
Why would anyone drive to Saint John's Point and then drive back to Shrigley to go to Coney Island?
Had I not been living in the area, the song might have remained a poetic excursion. Had I been living there more recently, I fear I would have checked the poetic travelling against the maps supplied by Google.
Coney Island
Coming down from Downpatrick
Stopping off at St. John's Point
Out all day birdwatching
And the craic was good
Stopped off at Strangford Lough
Early in the morning
Drove through Shrigley taking pictures
And on to Killyleagh
Stopped off for Sunday papers at the Lecale District,
Just before Coney Island
On and on, over the hill to Ardglass
In the jam jar, autumn sunshine, magnificent
And all shining through
Stop off at Ardglass for a couple of jars of
Mussels and some potted herrings in case
We get famished before dinner
On and on, over the hill and the craic is good
Heading towards Coney Island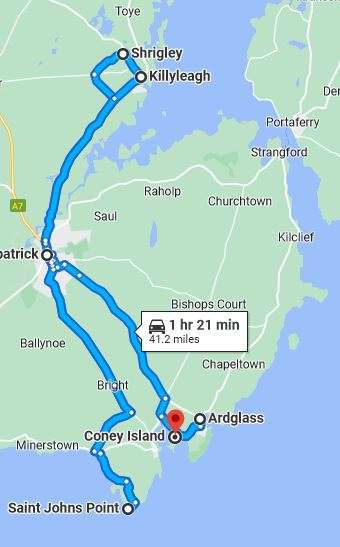 If Van Morrison's directions are dodgy, Glen Campbell's distances are even more so.
By the time I get to Phoenix was played on the radio this evening. The gentle ballad of a man who leaves his long-standing partner speaks of physical distancing that accompanies the metaphorical distancing that has begun.
In the 1970s, there were limited opportunities to check out the details of the song, but if it had been forty years later, being a geeky sort of teenager, I fear I might have wanted to investigate the journey described in the lyrics.
How far was being driven? What speeds would the driver need to average to reach each point in the times given? Where might he have stopped for meals? How often would he have needed to refill the car with petrol?
"By the time I get to Phoenix, she'll be rising,"
It doesn't say what time he left, leaving the note on the door. Presumably in the early hours of the morning? Might he have driven two hundred miles before the woman he has left behind wakes?
At this point, a geeky teenager might have turned to Google Maps to check on the next leg of the journey. It says that Phoenix to Albuquerque is 419 miles which can be covered in 6 hours 23 minutes.
"By the time I make Albuquerque, she'll be working. She'll probably stop at lunch, and give me a call."
The song makes sense for the morning's travel. If he has left Phoenix around 7 am, and presumably stopped for coffee and fuel somewhere, he would be in Albuquerque at lunchtime.
It is the journey from Albuquerque to Oklahoma that needs more imagination.
The distance is 544 miles and Google Maps says it takes 7 hours 43 minutes. If he left Albuquerque at 2 pm and made two one hour stops, it would still only be midnight. Does she go to bed early to be in a deep sleep by that time? Wouldn't you have thought that his departure might have caused her sleeplessness? Perhaps she is sanguine about him having gone.
The road to Oklahoma passes through Amarillo, perhaps he sang, "Is this the road . . ?" as he travelled along.
The problem with Google providing the answer to almost everything is that no space remains for poetic license (and its journey times never add up)