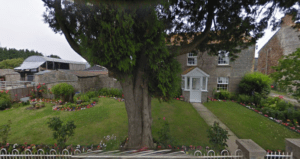 My aunt has been "shielded." Being a sprightly eighty year old is not a sufficient weight to counter the fact that she suffered cancer last year and is now deemed to be vulnerable.
Her daily drive to collect her newspaper is no longer permissible. Her bus journeys to Taunton are definitely excluded. Living on a farm, among brothers, nephews and grand nephews, there is no cause for concern about her shopping, or anything else that might be needed, but what would my aunt do with her time? As someone who has always been methodical, meticulous, and, above all, industrious, how would my aunt pass all the hours that would now need to be filled?
At a loose end, (there are many such moments at the present), I took a Google Street View drive down the road past her house, then I turned around and went up the road past her house. There was something I had never noticed.
Narrow, with a bend above the farm, and a speed limit of sixty miles per hour, the road that passes the farm has fast moving traffic which appears without warning. No-one parks on the road, visits to the farm always mean driving into the farmyard and going in though the back door of the farmhouse. A stone wall encloses the front garden, making the garden invisible to anyone driving through the entrance between the farmhouse and the cottage next door. The road and the walls meant I had never noticed my aunt's garden.
The garden is a picture of park-like perfection, neatly manicured lawns, tidily trimmed shrubs, borders filled with colourful flowers. In childhood, one of my favourite memories was of my aunt using and old kitchen knife to clear weeds from between the stone flags that formed the front path, that level of care has obviously continued through the past fifty years.
Locked down by the virus, watching the days come and go, there was a moment of encouragement, a sense of life being enhanced, a sense of determination being affirmed in knowing where my aunt will be spending these warm April afternoons. A grand nephew mows the lawns, but she will be busy with her hoe and clippers, weeding and tidying, as she has done since her own childhood.
When the restrictions are lifted and freedom returns, there will be a moment to call with my aunt and to ask to step outside the front door, to stand on the path and to smile.