The death of my Dad brought moments simply to stop and think, moments to drive through familiar lanes and to recall journeys with him.
We must have travelled through Upton hundreds of times. Upton was fascinating to a small boy because it had once had a railway station. The railway station at Upton would figure in family stories.
Upton was merely a halt at which a few local trains would stop, but because it was on the mainline between London Paddington and the West Country, and because express trains would go hurtling through it had a romantic air about it, adventures could start at this little place on our doorstep.
The station was properly called "Long Sutton and Pitney," but since it was at neither, the name of the hamlet in which it was situated was used by local people.
From Upton, the twin tracks ran towards Taunton in one direction and towards Paddington in the other.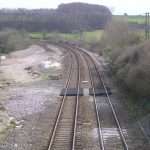 The station was closed more than 50 years ago, but it had been our family's gateway to the world, so was a special place in my memory. Passing through Upton on a visit home a decade ago, I remember searching for signs of the station and imagining it had moved.
To the east of the railway bridge, there were signs of what had once been a crossing and to the north side of the tracks, rubble strewn ground.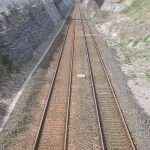 To the west side, there was what might have been a platform on the south side of the track, but nothing else.  Yet this was the place where a small boy in his father's car had thought about trains coming and going.
Returning home, I asked, "When you went to catch the train at Upton, which side was the station on?"
"The left."
"But that side is very narrow".
"The station was very narrow – just a platform, no ticket office.  You bought your ticket from the guard on the train".
"So what was on the other side? What was there, where the rubble is?"
"That's where they loaded milk onto trucks – it was always open space."
What happens when there is no-one left to remember the stories? Or when we are so rootless that we never heard the stories?
Maybe every detail is kept in some great archive, but whole areas of countryside that were once alive in the imagination through all the things told about them.  Driving through the lowlands of Somerset barely a mile passes without there being something we were told as children; perhaps they were reminiscences, or family connections, or one of the plethora of legends that abound, but without them it would not be the place it is.
Perhaps there are still boys who ride through Upton and hear stories of trains.